TREES HAVE FLARE 
LIKE A SKIRT
ABOVE THE ROOT
THE TRUNK FLARE BELONGS ABOVE THE GROUND. 
LET IT SHOW ABOVE THE MULCH.
PUT MULCH ON THE GROUND
- SHOW THE FLARE -
- SAVE THE TREE -
---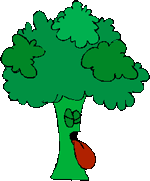 UGH! 
DON'T LET THAT DOG SPRAY ON ME!
IT JUST BURNS ME UP WHEN YOU LET YOUR DOG USE ME THAT WAY!
---
THANK GOODNESS FOR
GATOR BAGS!
Just fill them up
and they'll keep my roots moist all week
---
I'M JUST NUTS ABOUT TREES

SAVE MY HOME AND I'LL STAY OUT OF YOURS