Please visit the official Wanda Canoe Club page for up-to-date information.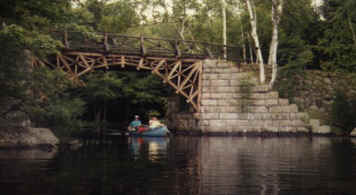 Wanda Canoe Club
Located in Ridgefield Park, NJ, at Waterfront Park, emphasizes canoe and kayak paddling for personal fitness, recreational cruising pleasure and racing excitement.
Wanda is an American Canoe Association affiliated club. Wanda Canoe Club has been in existence since 1910. Originally located in Edgewater, the clubhouse is located on the Hackensack River in Waterfront Park. Club members enjoy paddling on the Hackensack River as well as other rivers in the area. Wanda Canoe Club offers members and guests use of club boats at the Ridgefield Park facility and at our cabin in ACA Camp in Harriman Park, Sloatsburg, NY. Wanda offers our members a program of at least one river cruise each month in the season and a summer cruise for all or part of a week each year. Our members gather informally after work each Wednesday during the summer for paddling and fellowship. We also sponsor and support racing activities within the jurisdiction of the American Canoe Association. All ACA members and guests of the club are welcome to participate at these activities.
Wanda Canoe Club Information:
The Wanda Canoe Club was established around the turn of the century and now numbers about 45 members. The club has been an active participant in American Canoe Association programs over the years. Wanda members have played active leadership and athletic roles in the ACA, national, international and Olympic programs.Today, much of our effort is in the Marathon program.
The thrust of club programs include serious competitive paddling, paddling for fun and fitness, river running, and canoe camping.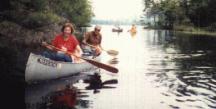 To facilitate such a varied program the club maintains a small fleet of Olympic canoes, Olympic kayaks, and recreational canoes at our Hackensack River boathouse in Ridgefield Park. These are available for use by members and their guests.The warmer months often find some of these boats moved to the club's cabin at the ACA Atlantic Division camp Lake Sebago in the Harriman Interstate Park where they are often used in competition. Wanda members can enjoy swimming, sailing, non powered boating, and hiking at the facility provided that they are also ACA members, or guests.
The cruising committee generally runs a white water trip each month during March, April, October and November.The rest of the warm months will have at least one family rated trip with an occasional white water cruise as an added feature. Our club has run week long summer cruises in the wilderness of the Adirondack lakes, Minnesota's Boundary Waters, Ontario's Lake Temagami and Maine's Allagash Wilderness Waterway and Pennsylvania's Clarion River, a mild and scenic river, abutting the Allegheny National Forest.

Wanda's Wednesday night cruises for fun and fitness on the Hackensack River have been a popular offering. We sometimes do a July 4th fireworks cruise. Wanda has sponsored the ACA Atlantic Division Marathon Championships for the past several years right on the Hackensack River. Members who wish to train within the Olympic Flat Water discipline will be able to paddle throughout most of the year. Potential members are encouraged to paddle with us at the boathouse or on a cruise. If you can't do that then visit a couple of our business meetings on the second Friday of each month. Contact Helen Yeisley, (201) 836-8139 for details. We generally ask folks to visit with us at least twice before we accept their application.
Associate cruising membership in Wanda costs $20.00.Active membership is $40.00 for an individual, and an additional $5.00 for your spouse. Our initiation fee is $12.00.       
How to Find Us:
From Rt 46 take the Main St. Ridgefield Park exit and head North. At the second light, Mount Vernon Street, turn left and down the hill toward the river. After crossing the tracks, take an immediate right onto Industrial Avenue and look for the DPW property on the left, the equivalent to about three blocks ahead. The Wanda building is behind the Police Pistol Range with it's blue caboose. Follow the path to the left of the caboose toward the river and around to the Wanda Club House in Waterfront Park.
Links:
Hackensack River Festival
Detailed information on the Hackensack River Festival held in early September each year. Fun for all.

American Canoe Association
Founded in 1880 by a group of avid canoeists the ACA is dedicated to promoting canoeing, kayaking, and rafting. We accomplish this mission by providing a variety of worthwhile programs and public services in such areas as: event sponsorship, safety education, instructor certification, waterway conservation, paddler's rights and protection, and public information campaigns.

Tide predictions for New York
Government tide table for NY Harbor. Add 1.00 hours for times at Ridgefield Pk. For levels multiply by 1.25 for Ridgefield Park.

Regional museums and attractions
This site contains links to many attractions of interest in the metropolitain NY area.

USGS Real Time Stream Conditions
USGS site that links to real time stream flow, level, and sometimes temperatures of streams in the US.
2,900 Nautical Mile Atlantic Rowing Race
In October 2001 Wanda member John Zeigler will team up with Tom Mailhot for a race from the Canary Islands to Barbados, 2,900 NM.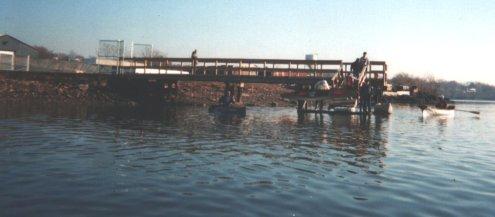 Wanda Canoe Club
C/O Helen Yeisley
337 Herrick Road
Teaneck, NJ 07666
(201) 836-8139

Joan Vieni
(201) 666-9677