Annual Green Fair/Swap & Shop - Sat. Sept. 25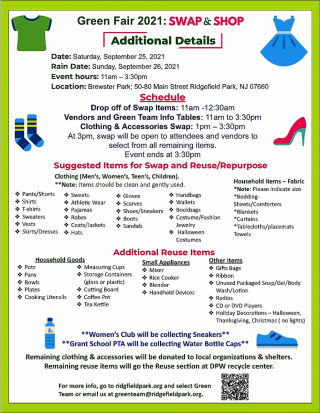 RIDGEFIELD PARK, NJ---Clothing, household goods, small appliances and other items are just some of the things that are up for grabs at this year's Green Fair 2021 – Swap & Shop.
Sponsored by the Ridgefield Park Green Team, Green Fair 2021/Swap & Shop will take place Saturday Sept. 25 or (Rain Date) – Sunday Sept. 26 from 11 a.m. – 3:30 p.m. at Brewster Park located at 50-80 Main Street in Ridgefield Park.
The Swap & Shop offers participants the opportunity to drop off swap items between 11:00 a.m. – 12:30 p.m. Items can include men's, women's, teen's and children's clothing. Items should be clean and gently used.  Other items include accessories (wallets, hand bags, scarves, shoes, sneakers, etc.) household items (Bedding sheets, comforters, blankets, curtains) household goods (pots, pans, bowl, plates, etc.) and small appliances (mixers, rice cookers, blenders, and handheld devices).
"This year's Green Fair/Swap & Shop is our way of being proactive in taking steps to Reduce, Reuse, Recycle," said Janet Malool, Chair of the Ridgefield Park Green Team. "According to an article from the World Resource Institute, one garbage truck of clothes is burned or sent to landfills every second. When we Reduce, Reuse and Recycle we are keeping goods and materials out of landfills. It's all part of educating the community and creating awareness among our residents that clothing, household goods, appliances and other items may find a second home."
From 11:00 a.m. to 3:30 p.m. vendors and the Green Team will have products and information on display.   From 1:00 p.m. to 3:00 p.m. those who have dropped off items to swap, will have access to the Swap & Shop and will be allowed to browse and select items that they would like to take home with them.  From 3:00 p.m. to 3:30 p.m. Swap & Shop will be open to all attendees and vendors to select from remaining items.  Any clothing and accessories that remain after the conclusion of the Swap & Shop will be donated to local organizations and shelters. Remaining reuse items will go to the Reuse section at the Ridgefield Park DPW Recycle Center.
For additional information and questions about Green Fair 2021 – Swap & Shop email greenteam@ridgefieldpark.org